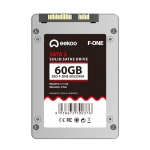 Description
1. MLC, Multi-Level Cell is 2bit/cell, fast, long life, about 1000-3000 erasing life.
2. The core is fast, the reading speed is 500MB/s, the writing speed is 100MB/s, and the farewell is slow, the game card, the picture cannot be opened, etc., and the card is rejected.
3. The internal structure has no mechanical moving parts, which is safe, shockproof and impact resistant, does not slow down, has low energy consumption, low heat generation and low noise.
4. Notebooks and desktops are common.
5. The aluminum alloy casing is integrally formed, which is light and thin.
Product parameters:
1. Capacity: 60GB.
2. Interface: SATA 6Gb/s (compatible with SATA 3Gb/S and SATA 1.5Gb/S)
3. Dimensions: 2.5 inches, length 100mm, width 69.85mm, height 6.8mm.
4. The main control chip SMI2246XT (reading speed 500MB/s, writing speed 100MB/s).
5. Storage medium MLC chip.
6. The operating system supports Win7/8/Windows/Windows XP and so on.
7. Earthquake resistance: non-operation (1500G, lasting 0.5ms, 3 axes)
8. Vibration: not running (20-20004z, 20G).
More Pictures

Pack All Images and Download