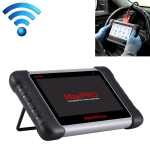 Description
Features
1. Autel MAXIPro MP808, with powerhouse speed and performance, offers riches of diagnostic features and functions, includingOE-level diagnostics, bi-directional control, key coding, special services and more. Booting in seconds and sporting a big 7-inch display, this diagnostic tool provides you a quick way to get you right down to business.
2. It is a cost-effective OE-level diagnostic tool that supports advanced bi-directional control, key coding and more, saving time troubleshooting and making work easier for professionals performing critical tasks.
3. The diagnostic tool has smart and powerful Android OS and Cortex-A9 processor for great speed and fluidity in everything you do. Rooted in the ease of diagnostics, the scanner can provide you with incredible user experience.
4. The scanner has the coverage for all the electronic systems on most commonly-used vehicles, providing you access to the systems for various scheduled service and maintenance, including oil reset, EPB/BMS service, etc.
5. As a tablet-based diagnostic tool, the MP808 has several features in addition to the diagnostics and service, including: MaxiFix, Shop Manager and more. The smart AutoVin function offers you a fast way to identify the vehicle.
6. Full System Diagnostics with Bi-directional Control:
Autel MP808 can access to ALL vehicle systems and subsystems, such as Body, Chassis, Powertrain, Network and etc., to perform a comprehensive scanning on ECUs to locate fault systems and retrieve DTCs.
(1). To diagnose Brake System if you feel the brake pedal is mushy and notice unusual odor or noise, etc. A properly operating brake system is critical to ensure safe vehicle control and operation
(2). To diagnose Emission System if the system is affected by vehicle age or poor quality fuel. A good emission system reduces harmful gases to a large degree and protects you from being fined
(3). To diagnose Fuel system if vehicle won not start or Check Engine light is illuminated. Check fuel system of car regularly ensures the best performance of your car with the lowest emissions
(4). To diagnose Transmission if your car is slipping or difficult to shift. The system plays an important part in the overall performance of your car
(5). To diagnose Wiper System if you observe chattering or streaking wiper. If the car is not regularly checked, the accident might happen because you can not see clearly
(6). To diagnose Light System if you see rapid signal blinking or dimming lights
Function
Service Functions for Reset Performing: The diagnostic scanner is a professional tool aiming at providing mechanics and DIY enthusiasts with access to the systems to perform various maintenance and services.
1. Oil Service Reset-Performs reset for the Engine Oil Life system, which calculates an optimal oil life change interval depending on the vehicle driving conditions and climate, and turns off the warning light
2. TPMS Service-Quickly looks up the tire sensor IDs from the ECU of vehicle, as well as to perform TPMS programming and reset procedures after tire sensors are replaced
3. EPB Service-Initializes the throttle actuators to the default state for regulating throttle (or idle engine) operations accurately
4. ABS/SRS Services-Performs various bi-directional tests to check the operating conditions of both the Anti-lock Braking System and the Supplemental Restraint System
5. SAS Service-Performs steering angle adjustment, clears steering sensor fault memory and turns off steering wheel warning light
6. DPF Regeneration Service-Clears particulate matter from the DPF filter to stabilize the filter performance.
7. BMS Service – Perform a reset on the vehicle battery for clearing the fault information and re-match the battery
8. Brake Bleed – When your brake pedal becomes soft and inconvenient to control, this diagnostic tool can perform bi-directional tests to check the Anti-lock Braking System
9. IMMO Service – Clear the lost information and program of car key the new key into the ECU database to protect the car from being stolen for user;
10. Injector Coding – Make the cylinder better identify injector after ECU or injector is replaced
11. SAS Service – to perform calibration for the Steering Angle Sensor and clear steering sensor fault memory
12. Throttle Adaptation – initialize the throttle actuators to the default state for regulating throttle (or idle engine) operations accurately
13. Headlamp
14. Suspension
15. Lang change
16. Odometer
17. Seats
18. CHG tire size
19. TEC learn
20. WIN DR ROOF
Specification
Operating System: Android4.4.4
Processor: Cortex-A9 processor (1.5 GHz)
Memory: 32GB
Display: 7-inch LCD capacitive touchscreen with 1024*600 resolutions
Connectivity: Mini USB 2.0 OTG /USB 2.0 /Wi-Fi / Micro SD card (supports up to 32GB)
Sensors: Ambient light sensor for brightness auto changing
Audio Input/Output: Input: N/A Output: buzzer
Power and Battery: 3.7 V/3200mAh lithium-polymer battery charges via 5 VDC power supply
Tested Standby Time: Around 4.5 hours of continuous use
Battery Charging Input: 5 V /1.5A
Power Consumption: 500 mA (LCD on with default brightness, Wi-Fi on) 3.7 V
Operating Temp: -10 to 60 C (14 to 140 F)
Storage Temp: -20 to 70 C (-4 to 158 F)
Operating Humidity: 5% – 95% non-condensing
Dimensions (W *H * D): 237.8 mm*148.6 mm*35.5 mm
Net Weight: 788 g
Supported Automotive Protocols: ISO9141-2, ISO14230-2,ISO15765, K/L-Line, Flashing Code, SAE-J1850 VPW, SAE-J1850 PWM, ISO11898(Highspeed, Middlespeed, Lowspeed and Singlewire CAN,fault-tolerant CAN), SAE J2610,GM UART,UART Echo Byte Protocol, Honda Diag-H Protocol, TP2.0, TP1.6
Supported Languages: English, French, German, Spanish, Portuguese, Dutch, Polish, Swedish, Korean, Japanese, Russian, Italian.
Fits for AU Ford / Holden / Buick / Cadillac / Chevrolet / Chevrolet MPV / Chevrolet Truck / Chrysler / Ford / Geo / GM / Hummer / Hyundai / Kia / Pontiac / Satum / Scion / Workhorse / Acura / Daihatsu / Honda / Infiniti / Isuzu / Lexus / Mazda / Mitsubishi / Nissan / Subaru / Suzuki / Toyota / Daewoo / Abarth / Alfa Romeo / Audi / Bentley / Benz / BMW / Bugatti / Citroen / CnFiat / Fiat / Jaguar / Lancia / Lamborghini / Landrover / LT3 / Maybach / Mini / Opel / Peugeot / Porsche / Renault / Rolls-Royce / SAAB / Seat / Skoda / Smart / Sprinter / Vauxhall / Volvo / VW.
Specification:
Package Weight

| | |
| --- | --- |
| One Package Weight | 2.63kgs / 5.80lb |

| | |
| --- | --- |
| Carton Weight | 11.99kgs / 26.43lb |

| | |
| --- | --- |
| Carton Size | 52cm * 44cm * 38cm / 20.47inch * 17.32inch * 14.96inch |

Loading Container
20GP: 306 cartons * 4 pcs = 1224 pcs
40HQ: 712 cartons * 4 pcs = 2848 pcs
OEM are Welcome! we can print customised artwork and logo
More Pictures

Pack All Images and Download